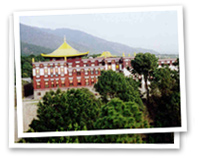 Palpung SherabLing
Monastery, India
Guru Vajradhara Chamgon Kenting Tai Situpa's Historic Visit to the Bay Area and Palpung Lungtok Choeling
From May 4 to May 9, Guru Vajradhara Chamgon Kenting Tai Situpa came to North America to tour the area and to deliver special teachings at Palpung Lungtok Choeling. This was a historic visit after an 18 year hiatus.
See the albums below!




For more photos and for photos of other events during his visit, please see palpung.org!