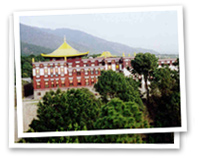 Palpung SherabLing
Monastery, India
Photos
Celebrating the Birthday of His Holiness the 17th Karmapa, July 2010
On 6/19, the birthday of His Holiness the 17th Karmapa, Lama Tenzin led a group of devotees to carry out life releases as an offering to the Karmapa. We released thousands of large sea snails at a Wild Life Refuge after performing a Puja.



On 6/20 we celebrated His Holiness the 17th Karmapa's birthday starting with a welcoming procession of offerings and tune, followed by a Puja.



To honor Guru Rinpoche's Birthday (6/21), we performed a Karma Pakshi Tsok Offerings on 6/20. This auspicious activity enhanced our connection to the lineage of Karmapas, showered their blessings and accumulated merits for all sentient beings.