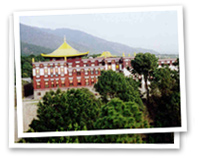 Palpung SherabLing
Monastery, India
Photos
Warm Winter Program Activity for Cold Weather Shelter, Dec. 2008
Thank you for the donations many of you made to this year's Warm Winter Program. Because of your generosity, a large quantity of sweaters, fleeces, sweatshirts, socks, etc., were purchased at clearance prices and then donated to the Cold Weather Shelter at the old National Guard Armory building.

We hope that you will continue to support our Warm Winter Program which will be running until March 2009.

See the photos from our December visit to the shelter!