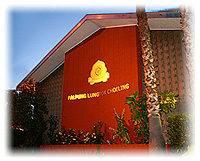 TEACHINGS BY THE V. V. MINGYUR RINPOCHE
JUNE 6-11, 2009

Dates
Sat. 6/6 and Sun. 6/7
Public Teaching on "Shamatha and Vipashyana"
Free - Donations are welcome.
Mon.6/8 and Tue. 6/9
4th year of Mahamudra Teaching "Guru Yoga"
Fee: $100
Wed. 6/10 & Thu. 6/11
5th year of Mahamudra Teaching "Karmapashi"
Fee: $100
Daily Schedule
| | |
| --- | --- |
| 10:00am to 12:00pm | The V. V. Mingyur Rinpoche Teaching |
| 2:00pm to 3:00pm | Meditation led by resident lama-Lama Tenzin |
| 3:00pm to 6:00pm | The V. V. Mingyur Rinpoche teaching (except Sunday 6/7*) |
All teachings will be in English with Mandarin translation.
*On Sun 6/7 after the teaching, there will be a book-signing event for the Rinpoche's new book "Joyful Wisdom". So the afternoon teaching will be ended at 5:00pm and the book-signing event will start right after the teaching.
The book will be available for purchase at $25 each; pre-order is advised.
Registration
If you are interesting in attending or pre-ordering the "Joyful Wisdom" book please download and complete the registration form (doc), and send to us by May 29, 2009.
Questions?
For additional information please email dharmapractice@palpung.com or call either Lydia (408) 505-3768 or Martha (650) 823-8183.