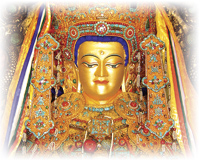 Memorial Puja, April 6, 2008
We will have a memorial puja for public on 4/6/08 from 10:30am to 12:30pm instead of our regular monthly puja time of 11:00am to 12:00 noon, so we can have enough time to burn all the names.

Lama Tenzin will perform A Mi Ta Ba Puja for the deceased and burn their names during A Mi Ta Ba mantra chanting to make connections for them to the A Mi Ta Ba pure land and to purify their negative karma and also increase their positive karma.

Since it will take some time for us to put all the names together, please send me the names of your deceased relatives/friends whom you want to pray for by replying to this email as soon as possible.