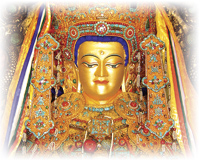 July 30, 2017 (Sunday) - "What is Buddhism" by Lama Tenam, Executive Secretary to Guru Vajradhara Chamgon Kenting Tai Situpa
Date: Sunday July 30th
Time: 2:00pm-3:30pm
Place: Palpung Lungtok Choeling, San Jose
Fee: Open to all at NO charge
Note: The previously scheduled White Tara Puja is canceled and replaced by this event. Mahakala Puja will still take place at 4:00pm

This is a subject relevant to the daily lives of all new and long-time practitioners of the Dharma. We hope many of you will be able to take advantage of this opportunity to hear about " What is Buddhism? " from someone who has received decades of teachings not only from the Guru Vajradhara himself but many other accomplished masters of the lineage!


RSVP
This event is FREE and OPEN TO ALL, but please email event@palpung.com if you plan to attend - See you next Sunday.
About Lama Tenam
Lama Tenam became a monk when he was 8 year old and received novice ordination from HH 16th Karmapa and full ordination from the Second Jamgon Kongtrul. He graduated first in his class in both his undergraduate and graduate Buddhist studies. He also studied many of the fundamental Tibetan Buddhist texts with the VV Khunnu Lama Tenzin Gyaltsen Rinpoche who is one of the teachers to HH the Dalai Lama.

Lama Tenam joined the Palpung Sherabling Monastery in 1983 after completing his graduate school studies at Varanasi Sanskrit University. He spent 6 months with V V Saljay Rinpoche who is a teacher to many great high Lamas and Retreat Masters of the Monastery. Since then he has served as personal executive secretary to Chamgon Tai Situ Rinpoche. He also received complete transmissions of the 8 major lineages of Vajrayana Buddhism and detailed instructions on the three main Mahamudra texts by the 9th Karmapa from his root Guru, Chamgon Tai Situ Rinpoche. He also received many personal instructions from HH 17th Gyalwang Karmapa from 2000-2002.