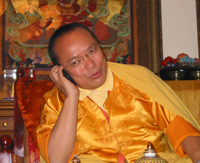 Tele-Teaching by Guru Vajradhara Chamgon Kenting Tai Situpa, June 2 and 3, 2012
H. E. Tai Situ Rinpoche will bestow a live Tele-Teaching at Palpung on the evenings of June 2nd, and June 3rd. He will teach on "The Four Noble Truths." This was the first teaching manifested by Lord Buddha after attaining enlightenment to his first five disciples. Auspiciously, we will be receiving this same teaching from the Guru Vajradhara on Saka Dawa (June 4th, India time), the day, which honors the birth, enlightenment and parinirvana of Shakyamuni Buddha. Any virtuous activity on this day increases one hundred million times!
Schedule
Saturday, 6/2/12
7:00pm - Arrive and assemble in the main Shrine Hall
7:30pm to 9:00 - Tele-Teaching follows by questions and answers
Sunday, 6/3/12
3:00pm - Calling Guru Chanting
3:45pm - Break
4:15pm - Mahakala Puja
5:15pm to 7:00pm - Vegetarian Pot Luck Dinner and clean up
7:30pm to 9:00pm - Tele-Teaching follows by questions and answers
Please bring a vegetarian dish to share if you are joining us for dinner on Sunday.
This teaching will speak to both Buddhists and non-Buddhists alike, as "The Four Noble Truths" is one of the fundamental philosophies taught by Lord Buddha.
Everyone is welcome!